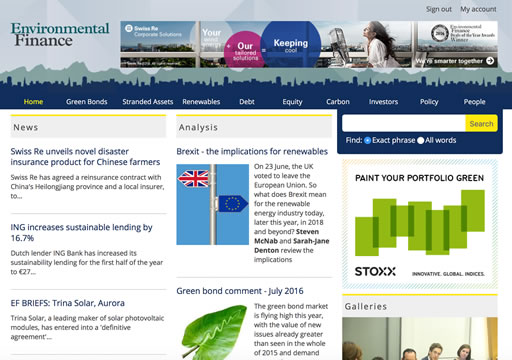 Behind Bond Database
Environmental Finance has a reputation in delivering market-leading content on the risks and opportunities present to the financial community of the move to a lower-carbon environment. This has placed it at the fore-front of the rapidly growing green bond market. Since the launch of this market in 2007 Environmental Finance has offered news and analysis, a forum for the exchange of ideas and is now proud to present The Environmental Finance Bond Database.
Environmental Finance and its content team have built a respect in the market for honest and unbiased reporting based on the facts. Accuracy is important to us and with many issuers and investors sharing information with us this enables us to provide you with premium content.
NEW – Green loans added
An extra section has now been added to the Bond Database to accommodate Green Loans and Sustainability-Linked Loans.
We have taken this step in recognition of the growing importance of loans in the sustainable debt market and the publication of the Green Loan Principles and the Sustainability-Linked Loan Principles.
As many loans are bilateral contracts, comprehensive information is more difficult to obtain than in the bond market. We would therefore welcome any additional information from borrowers or lenders in this fast-growing new market.
Our advantage
Clean and responsive interface: standardised format makes it easy to find and compare data. Predefined charts and tables offering quick insights into key market metrics. A quick click gives you access to documents such as final terms, external reviews and impact reports under a PDF format.
Filter and export: you can easily filter and apply your own criteria in order to create custom tables.
This gives you tailored market information on green, social and sustainability bond deals, issuers and lead managers in
You can filter by a wide range of criteria, giving you the most tailored experience in the market.
You can then export the filtered deals under an Excel format, allowing you to create numerous infographics and tables.
Environmental Finance's expertise: Environmental Finance has a reputation in delivering market-leading content on the green, social and sustainability bond markets. Our analysts and researchers gather documentation and official statements by contacting issuers or lead managers involved in the issuance.
News and analysis: throughout the database, you will find links to Environmental Finance's magazine giving you access to news and analysis by our editorial team.
Database Overview
The database has four pre-populated pages:
Homepage: gives you an overview of the green, social or sustainability bond markets thanks to various infographics and ranking tables that can be filtered according to your needs.
Deals: the main page where all the green, social and sustainability bond issuances are accessible to open.
By opening the deals, you have access to a variety of PDF documents (when available): final terms, press releases, external reviews, assurance reports, use of proceeds/impact reports, GBP and SBP external review forms, etc. You can filter and export the deals.
Issuers: regroups and ranks all bond issuers. You can filter and create customised rankings.
Lead managers: regroups and ranks all underwriters. You can filter and create customised League Table.
In addition, you are able to create your own customised tables and rankings using our "search and filter" bar on the left of each pages.
The bonds can be filtered by the following sections:
Bond categories
Bond standards
Country
Currency
External assessment provider
Identifier
Issuer type
Maturity date
Rating agency
Settlement date
Stock exchange
Sustainable Development Goals
Use of proceeds
Accordingly, the bond database operates with a multi-tick filtration for each section.